home
news
tournament
From Being Boys to Being Champs
Brotherhood is something that can't be bought or manufactured. It's developed over time, trials, pain, fun and victory. It's a bond that sometimes can even be stronger than those that are blood related. Kyle Schoenherr and Rodney Neuhaus have known each other over 14 years. From a graduation party their friendship became the glue that has made them one of the top crappie teams in our industry. Another unique thing about this bond is that Kyle's wife is Rodney's wife sister. Yes you got it, they are brother-in-laws.
Growing up in southern Illinois fishing was something that Kyle and Rodney loved to do. Even though they didn't know each other in their earlier years of growing up, their passion and knowledge of fishing was being developed and sharpened. Kyle now guides full time and owns All Seasons Crappie Fishing Guide Service, servicing Rend Lake, Kinkaid Lake and Lake of Egypt. Rodney is a plant manager at Mt. Vernon Moldworks. With more top 10 finishes to count and several top 3 finishes becoming the Bass Pro Shops Crappie Masters National Champions was not far off.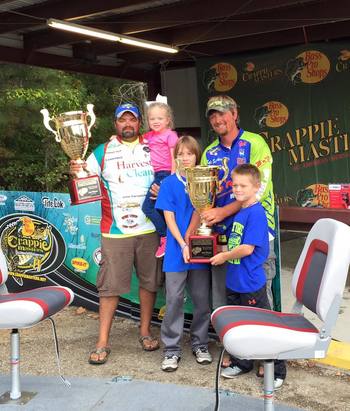 Day one of the Kentucky Lake Bass Pro Shops Crappie Masters National Championship showed up with a lot of teams worried because fishing had been very tough. September is know to be a transitional time on many lakes. The cooler nights start rolling in and fish become hard to pattern and catching big fish become inconsistent. But for Kyle and Rodney they were optimistic. They had caught several good fish during practice and they had a game plan. Their game plan was to find a great spot off the river channel that had great contour to hold shallow to mid range crappie 12 ft. and less. With using their Lowrance HDS-12 Gen3 they located cover holding quality fish. "I knew that if we caught fish deep it was going to be hard to keep them alive so that's why we sought after a shallow bite" said Kyle. Several teams on day one had fish die on them just like Kyle thought would happen.
There are many things that take place in a tournament anglers boat that you'll never hear about. One thing I found out while interviewing Rodney was that they had broken their weigh scale at the last tournament and did not get a new one for the championship. I know, how did they pick the best 7 to weigh in right? Well they had to go by the length of the fish and a culling beam. "By about 10:30AM we had our fish for the scales. We ended up leaving some spots alone for day 2 and went and hit some tops that we had caught a 2 pound crappie on earlier in the week, to see if we could pop a big mama. The bad thing was that the longer we went without catching a fish the smaller the fish in our cooler started to look. Then we started doubting ourselves. But we stuck to the plan and did what we set out to do. Pulling up to the scales we thought we had about 11 pounds. While we were culling our fish we hear 13.01 from the weigh in stage. Our hearts stopped beating for a minute. We thought we messed up bad. But in the end we ended up with 11.61 and in third place" said Rodney.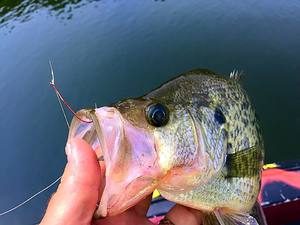 Day two came with a different set of variables. "Wind change, little rain, and more clouds made the crappie a little slower to bite. It took 2-3 minutes to get a bite at each piece of cover but once the first crappie ate the others would follow" said Kyle. A major part of their success they say was using Tru-Turn hooks on their minnow rigs and using 16 ft. B'n'M BGJPs. When day two wrapped up Kyle and Rodney would bring 12.07 to the weigh in scales to take the lead and win their first Bass Pro Shops Crappie Masters National Championship on Kentucky Lake in Buchanan, TN.
Congratulations and see you guys on the tournament trail in 2016.
by Jarad Roper