home
news
top slab waters
Illinois Top Slab Waters For Quantity & Quality
The Prairie State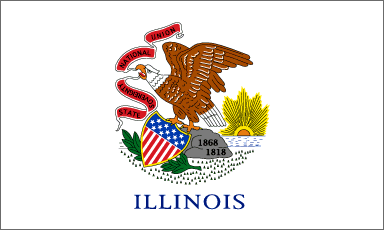 CrappieNation.net has talked with the states Fisheries Biologist, tournament pros and local anglers and based on the research we have come up with this information. As time changes, bodies of water will also.
QUANTITY - Lake Shelbyville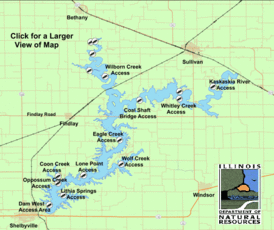 Lake Shelbyville is a reservoir located in Shelby County, Illinois and Moultrie County, Illinois created by damming the Kaskaskia River at Shelbyville, Illinois. The lake's normal surface pool is 11,100 acres at an elevation of 600.4 ft. The area that surrounds the lake is the Shelbyville State Fish and Wildlife Area. The lake is managed by the United States Army Corps of Engineers and the wildlife is managed by the Illinois Department of Natural Resources.
Bordering the lake are two state parks: Wolf Creek State Park and Eagle Creek State Park; and five federal campgrounds including Coon Creek, Opossum Creek, Lithia Springs, Lone Point and Forest (Bo) Woods. There is also Wilburn Creek and Whitley Creek Recreational Area. Lake Shelbyville's shoreline is heavily wooded and subject to severe erosion. Man-made beaches are located at Dam West (Shelbyville), Wilborn Creek, Wolf Creek State Park and Sullivan Beach. Aside from the main channel of the lake are many coves, perfect for fishing. The lake is deeper than other major lakes in Illinois, so it is popular with boaters during the summer.
__________________________________________________________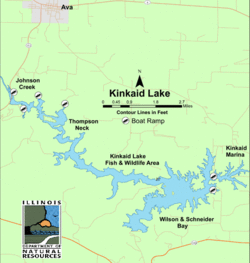 Kinkaid Lake was built in 1968 with an average depth of 39 feet, although the area near the dam on the southernmost tip is approximately 80 feet deep. The lake encompasses of 2,750 acres, which wind around the northwestern hills of Shawnee National Forest. The ownership of the surrounding land is divided among three entities; theIllinois Department of Natural Resources manages approximately 4,000 acres, while an additional 5,000 acres are managed by the U.S. Forest Service. Kinkaid-Reed's Creek Conservancy District oversees the remaining 300 acres.
Four boat ramps are available to the public with a full-service marina also available. No horsepower restrictions apply at these areas, although numerous no-wake areas exist on the lake for safety and other reasons. The IDNR has recently added a 50 mph speed limit during the daytime and 25 mph speed limit at night.