home
news
top slab waters
Missouri Top Slab Waters For Quantity & Quality
The Show-Me State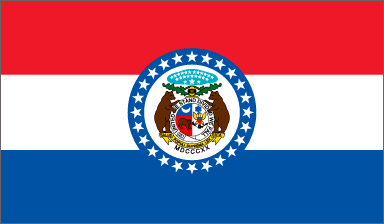 CrappieNation.net has talked with the states Fisheries Biologist, tournament pros and local anglers and based on the research we have come up with this information. As time changes, bodies of water will also.
QUANTITY - Lake of the Ozarks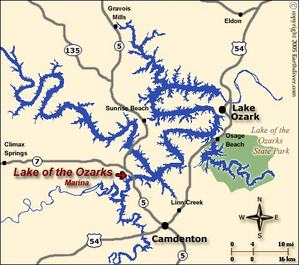 The Lake of the Ozarks is a large reservoir created by impounding the Osage River in the northern part of the Ozarks in central Missouri. Extents of three smaller tributaries to the Osage, the Niangua River, Grandglaize Creek and Gravois Creek, are included in the impoundment. The lake has a surface area of 54,000 acres, 1,150 miles of shoreline, and the main channel of the Osage Arm stretches 92 miles from end to end. The total drainage area is over 14,000 square miles. The lake's serpentine shape has earned it the nickname "The Magic Dragon", which has in turn inspired the names of local institutions such as The Magic Dragon Street Meet.
________________________________________________________________
QUALITY - Truman Lake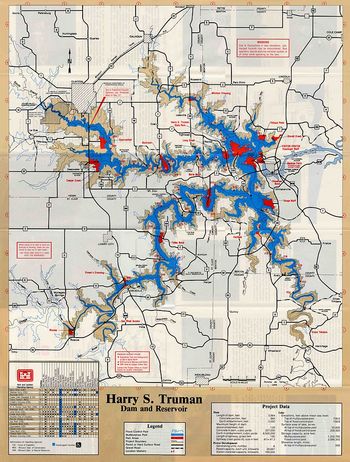 The Truman Reservoir also known as Truman Lake is the largest man-made lake in Missouri and the dam that created and manages the lake's water level. It is located between Clinton and Warsaw, on the Osage River and extends south to Osceola. The dam is located in Benton County, but the reservoir also extends into parts of Henry, St. Clair and Hickory counties.
Originally named Kaysinger Bluff Dam and Reservoir in 1954, when construction was authorized, construction began in August 1964. It was renamed the Harry S. Truman Dam and Reservoir in honor of the former president from Missouri by Congress in 1970. Construction was completed in 1979. The Kaysinger name refers to the bluff immediately north next to where the dam was eventually constructed. The bluff/cliff, a popular landmark even before the dam, overlooked the confluence of the South Grand River, Tebo Creek and the Osage River. The visitor center now sits on the bluff.
The land surrounding Truman is public land owned by the Corps of Engineers. This gives anglers the opportunity to walk to the lake around the entire shore. A good map with county roads and lake depths is a great tool to have.