Lightweight Four-Stroke Family Grows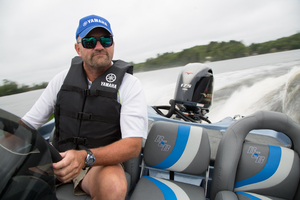 Yamaha Marine Group reveals a V MAX SHO for boaters who want more power and speed than a 150-horsepower outboard can offer– the V MAX SHO 175. The new V MAX SHO 175 will bring all the industry-leading attributes of the 2.8-liter V MAX SHO line to a larger group of boaters and anglers.   
"The V MAX SHO offers light weight, high performance and all the benefits of four-stroke power, including clean, quiet operation and great fuel efficiency" said Ben Speciale, President, Yamaha Marine Group.  "The V MAX SHO family has made two-stroke power obsolete." 
The V MAX SHO 175 arrives along with the new V MAX SHO 115. It joins the successful V MAX SHO 250, V MAX SHO 225, V MAX SHO 200 and the V MAX SHO 150.
Like its siblings, the V MAX SHO 175 has a powerful appearance, with a paint scheme that appeals like nothing else on the water. 
Efficient use of space is another benefit of the V MAX SHO 175. There's no need for an oil tank or two-stroke oil, which means more room for batteries, tackle or storage in the boat.
Great overall performance comes courtesy of Yamaha's Variable Camshaft Timing System (VCT™), which advances and retards the angle of the intake camshaft to dramatically increase power and throttle response in the low- and mid-rpm ranges. These adjustments help the 2.8-liter inline four develop impressive power in the midrange, where it counts.
At the same time, the new V MAX SHO outboard offers outstanding top speed. In tests conducted by Yamaha (using a Skeeter® ZX 190), the V MAX SHO 175 proved to be 5.1 MPH faster than Yamaha's V MAX SHO 150. 
Yamaha's advanced technology four-stroke, four-valve-per-cylinder V MAX SHO 175 is able to maximize combustion efficiency in a way that no two-stroke outboard can, delivering the utmost in clean, quiet power and performance. 
In addition, a multitude of advanced sensors constantly provide vital atmospheric and engine conditions to the Engine Control Module (ECM), which instantly makes precise adjustments for optimum performance. The outboard is also extremely fuel efficient, delivering 30-to-40 percent better fuel efficiency than a carbureted two stroke. 
The V MAX SHO 175 is also smooth running and quiet, thanks to advanced internal design features and counterbalance shafts.  
With mechanical control, the outboard offers easy rigging. It can be equipped with analog gauges, 6Y5 digital gauges or Command Link® gauges.
The new V MAX SHO 175 is expected to be available in early spring 2015. 
Yamaha Marine products are marketed throughout the United States and around the world. Yamaha Marine Group, based in Kennesaw, Ga., supports its 2,000 U.S. dealers and  boat builders with marketing, training and parts for Yamaha's full line of products and strives to be the industry leader in reliability, technology and customer service. Yamaha Marine is the only outboard brand to have earned NMMA®'s C.S.I. Customer Satisfaction Index award every year since its inception. Visit www.YamahaOutboards.com.
###
This document contains many of Yamaha's valuable trademarks. It may also contain trademarks belonging to other companies. Any references to other companies or their products are for identification purposes only, and are not intended to be an endorsement.