home
news
tournament
Another Three Pounder at Crappie USA Super Event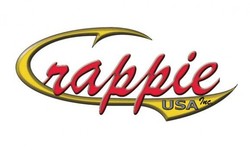 Can you say a repeat. For two years in a row Crappie USA home of the American Crappie Association has seen a three pound plus crappie show up on their weigh-in scale. Last year at the Crappie USA KY & Barkley Lakes Super Event held April 18-19, 2014 the team of Dave Aancell and Danny Stephens of Section, AL caught a 3.02 black crappie while slow trolling on KY Lake. Everyone was excited to see that beautiful fish.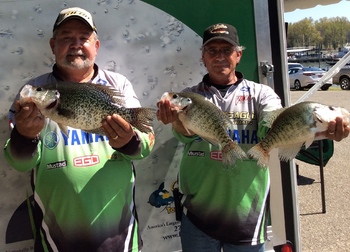 It's not common to see a three pound crappie, unless you live or fish much in Mississippi. Mississippi has earned the title of "The Home of The Three Pound Crappie". Every year and several times during the year anglers report fish being caught over three pounds. This year alone on Grenada Lake in Grenada, MS at a Big Fish Tournament Layne Carpenter, 12 years old of Yazoo City, MS and his uncle Lance Evans weighed in a 3.92 slab.
So it's common to see three pound crappie in MS but to see a three pounder come across the scales two years in a row says something. This year at the Crappie USA KY & Barkley Lakes Super Event held April 10-11, 2015 the team of Jeffrey Lang Jr. and Jeffrey Lang Sr. weighed in a 3.10 white crappie. This SLAB made everyones eyes pop. I asked Jeffrey Jr. to tell us what happened and here it is in his own words.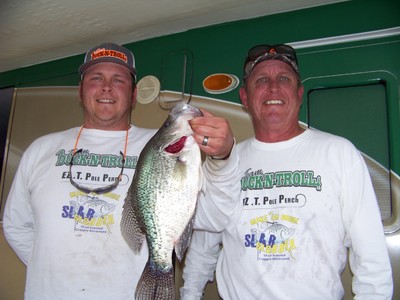 Jeffrey Lang Jr. - "After getting pushed out of the area we were fishing by overcrowding  earlier in the day, we were feeling pretty down with our mediocre seven fish limit. Dad and I always try to keep each other positive in these situations and stay optimistic by saying  " let's just go get a three pounder or two ".  On the lakes like kentucky lake, it's a possibility but far from probability. If we only knew how are luck would change.
It's 1o clock in the afternoon, sun shining and we needed a plan that we did not have. We were pulling crankbaits and jigs out of the back of the boat with our E.Z.T POLE PERCH rod holders and all of our artificial baits were spiked with Richard Malcolms' SLAB SLOBBER including our crankbaits. While we were thinking of what to do and running out of time, we kept trolling in 10 ft of water towards the Wildcat boat ramp in Blood River. It's now been 2 hours since we caught our last fish and we were about to receive our blessing.
Boom our long line rod starts jumping in the rod holder " Dad, Dad, Dad right long" I'm excited already and have no idea what we're in for. I remember dad saying if this is a crappie it's a good one. Seconds ticked by that felt like minutes and then the fish rolled on her side and she was BIG. My heart is now racing, I'm getting the net ready and Dad is reeling her in smooth and steady. As she is getting closer to the boat she is looking bigger and bigger. As I attempt to net her the net gets hung up on the hook and I can no longer get under the crappie without compromising our hook set. My heart sank and panic has set in. I have never seen a crappie this big in person in my life and now I'm about to screw it up. Dad decided that I needed to go for broke and flip the net and scoop her from the top as quick as I can. We took a deep breath and netted the fish. Excitement is now running through every nerve in our bodies. As we lift the net into the boat we know she's ours. Our hearts began racing and we had the shakes real bad. After a series of high fives and Mike Iaconelli victory screams we decided to pack it in and get to the weigh in. We didn't weigh the crappie, we just knew she was special.
All of the excitement and joy that had filled our bodies had now turned to worry and stress for the 35 minute drive back to Paris Landing, wondering if she was going to be ok.
When we reached the weigh in we quickly got into the weigh-in line and our hearts were again racing. We placed her on the scale and watched the numbers keep going up. When the scale stopped on 3.10 we couldn't contain our emotions. High fives going around like teenage boys at a school dance. We had just accomplished our goal to join the three pound club. After the short photo session we headed to the water to release her.  It's really awsome watching the video of the release and seeing her swim away. It really put the icing on the cake, I may be more excited knowing that she is back out there on Kentucky Lake continuing to put her offspring back into the fishery and it leaves that possibility of us meeting again."
Every three pounder is special but what is even more special it to be able to share moments like this people you love. This father and son team will never forget this as long as they live.
by Jarad Roper