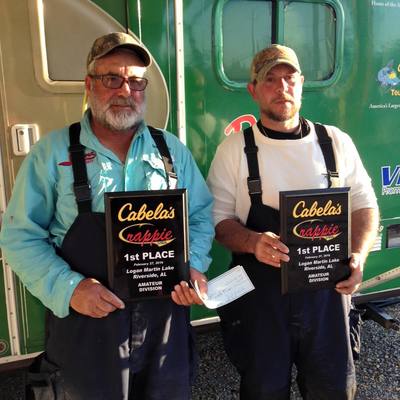 Winning a tournament is a great Victory in it's self but when you when 4 in a row you are making history. 2004 Crappie Masters National Champion Gilford "Sonny" Sipes and his tournament partner Ronnie Bleas are blazing their own trail and it's sure on FIRE!
It all starts on November 28, 2015 at the Cabela's Crappie USA Crescent & Dead Lake tournament in Palm Coast, FL. There was over 40 anglers from different states competing for not only cash and prizes, but for a chance to advance to the Cabela's Crappie USA Classic. The classic will be held on Kentucky & Barkley Lakes in Paris, TN. In this one day qualifier you need to make sure you strike hard the first day because it's no time to advance the next day because there is no next day. Tournament day comes and Sipes and Bleas starts long lining in 13 feet of water using what will be the hot bait for their many wins the Crappies Last Bite Triple Wiggle in the Popsicle Color with 1/8th ounce jig heads. Well, they long lined to Victory # 1 with 7.53 pounds.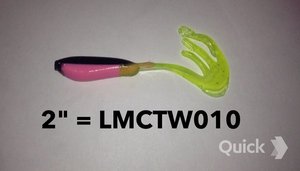 It's now 2016 and it's time for the Cabela's Crappie USA Crescent & Dead Lake Super Event which is a two day tournament in Palm Coast, FL. Yes, they are going right back down to the place they just got a victory a couple of months ago. Last time the lake only allowed them to weigh in 7.53 pounds but this time the lake showed them a little more love. It's a bigger field and the cash is much bigger. They have already qualified for the Classic on KY & Barkley Lake due to their Win in November. Day 1 of competition comes and it's time to long line again. They sling those Crappies Last Bite Popsicle Triple Wiggles out and at the end of Day 1 competition BOOM they weighed in 13.48 pounds which puts them in the lead with 2nd Place having 11.82 pounds. Day 2 of competition rolls around and OMG, the bite has changed and I'm not talking about for the good. Sipes and Bleas long line all day to only catch 15 specks aka black crappie. As their weight has gone down they wonder are they going to be able to pull out another victory. Well you know the answer to that, they end up winning the tournament with 23.23 pounds with 2nd place having only 21.89 pounds. Victory # 2.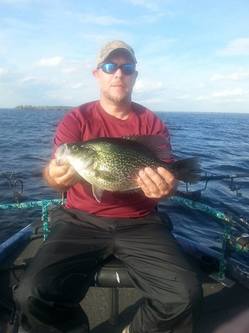 Now Gilford and Ronnie are Alabama boys and the Cabela's Crappie USA tournament trail is rolling in and making a stop at Riverside, AL for the one day qualifier held on Logan Martin Lake. Can you say HOME FIELD ADVANTAGE. At this tournament they are going to try something different and start competition day off Spider Rigging aka Slow Trolling. After a while they realize the crappie want's the bait moving a little faster than Slow Trolling was allowing them to go so they make a change and start long lining. This is key because a lot of anglers have a hard time making quick adjustments due to being set in their ways. The change pays off and once again the famous Crappies Last Bite Triple Wiggle bait made by Sipes Bait & Tackle gets them 11.86 pounds which allows them to win and make this tournament Victory # 3.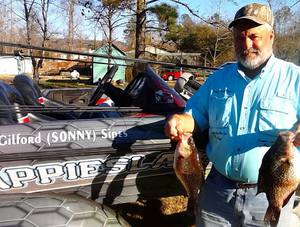 It's amazing to get a W on a lake that you have been fishing before but when you go to a lake you haven't fished and win is another story. Gilford and Ronnie are on the winning train and they don't want to stop. They travel to Evans, Georgia to fish in the two day Cabela's Crappie USA Super Event held on Clarks Hill Lake. Long story short is on the first day of competition they make heads turn when they take the lead with a massive weight of 15.98 pounds. In 2nd place the team had 13.92 pounds. I called  Gilford and asked him did they know they were going to weigh in close to that weight due to what they saw in pre practice and he said no. Gilford said, "We knew there was about 13 pounds in that area but not 15 plus pounds"! At the end of day two Gilford Sipes and Ronnie Bleas will finish the tournament with 29.97 pounds giving them VICTORY # 4.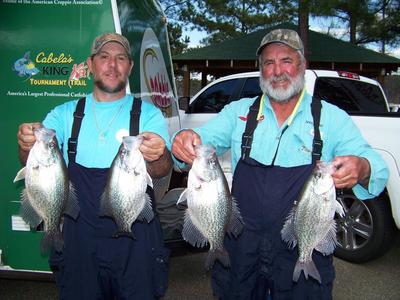 The year is not over and more victories might be in their future but if they don't win another tournament this year they have already made history. To learn more about the bait's they have been using visit Crappies Last Bite and to learn more about the Cabela's Crappie USA Tournament Trail visit click here Crappie USA. 
by Jarad Roper
*Some Photos came from the Cabela's Crappie USA and Crappies Last Bite website.