"Keep The Action Flowing In Front and In Your Action Camera"
- Jarad Roper
Now a days, a lot of people are into sharing their life experiences. They want their families and friends to be able to join in the moment. This has become a national movement and companies are taking notice. We now have devices that are small and powerful enough to capture these wonderful and sometimes horrible moments. The large camcorder has been replaced by our cell phones. They are smarter and the video and photo quality is superb. People are posting pictures and short films, using just their cell phone. Sharing them on Facebook, Twitter, Instagram, etc. However, there are some things we want to capture and the cell phone wouldn't be the correct tool to use.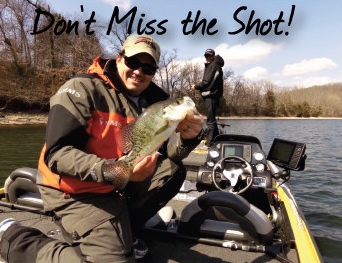 For instance, if I wanted to take a video of myself flying down the lake, a cell phone would work. If I wanted to capture me casting and catching a fish, a cell phone would probably miss some cool moments, like the initial bite and the bending of the rod tip. For this reason, we have now a whole world of Action Cameras. To name a few, Liquid Image, GoPro, ION and Garmin has filled the void for us aqua people. These action cameras have allowed us to catch moments from start to finish. Even though the action cameras are great, they need power. That brings us to the AquaStick. Some might ask, what is the AquaStick? I'm glad you asked. The AquaStick is a YOLOtek product. YOLOtek was born out of solving a problem. Founder Christian Corley from the Kansas City area, received a phone call from his father Roger Corley who was fishing in Iowa with his oldest son Bryan. Roger grew tired of his cell phone running out of battery while out fishing. Bryan said, "What we need is for someone to take the power from the navigation light port and convert it to USB". Roger said, "Well I know who can invent that, let's call your brother Christian".... 18 hours later - PowerStick was born. 
They showed the PowerStick to Pro Angler Casey Scanlon and he said "This is great, but can you make it hold my GoPro, Virb or iON action cameras?" AquaStickPRO was born. 
Just two weeks later AquaStickPRO was voted one of the TOP NEW PRODUCTS AT THE BASSMASTER CLASSIC presented by ‪GoPro!
Watch This Video To Learn More About The AquaStick
Watch This Video To Learn About The PowerStick