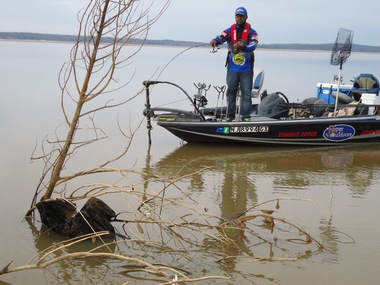 Whenever crappies are on, or in cover, this is the perfect opportunity to utilize the vertical jigging technique. Many times anglers will go right to the heart of the brush pile or stake bed and forget to work around it first. Work the out sides first, great way to do that is by flipping your jig past the cover and allow the jig to swim back to you. Then move in to the heart of the cover. For example, let's say the body of water you are fishing has willow trees or buck brush on its banks. In the spring it is very likely there will be rain showers. If the waters comes up and covers the base and trunks of the trees, once the water is stable, crappie will move into that thick cover. A lot of time those trees and brush will have greater oxygen around them and will provide a great place to fish in the late spring and summer. Another reason why crappie will move into the thick brush is due to insects and bugs, particularly black crappie. I have found out that the black crappie diet is similar to a bluegill diet. They both love insects and bugs. If you know there are black crappie around, up the ante and tip your jig with a wax worm.
Tipping is when a minnow, wax worm or crappie nibbles is placed on the hook with your jig. Many crappie tournament anglers do this to get bigger fish. Tipping creates a couple of things: It gives a bigger presentation and it creates a natural scent trail. In the spring, crappies tend to want bigger baits. It is said that bigger bait will catch bigger fish. Ninety percent of the time, this is true. As far as scent goes, there are many products to enhance the smell of your bait, but there's nothing like the real deal. I'm talking about minnows.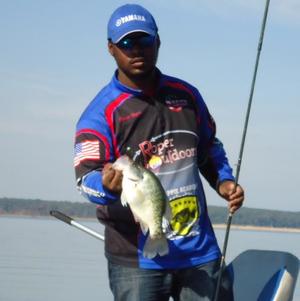 When jig fishing I've seen many anglers drop their jigs right next to the cover and then move on. Work your way down. Don't just go right to a particular depth. Start shallow and work your jig down. Also don't be afraid to allow your jig to go all the way to the bottom. Dad and I have found that your larger slabs will sometimes be on the bottom. Remember, it is important to make sure your jig is heavy enough for you to feel it on the line. Many anglers try to fish with the lightest jig just because they are crappie fishing. This is incorrect. Dad and I will normally start off using a 1/8 ounce jig head. This is an all around great size; however, if we are fishing in an area that has current or that is deeper than 10 feet, we will increase our jig head weight to ¼ ounce. Consider this: If you fish with a light jig head, you have to wait for the jig to fall and get to a particular depth. With a heavier jig head, you can explore the cover quickly and ultimately fish more spots in a day.
Hopefully you have learned some useful tips that will help you boat more crappie in the days to come. Keep it fun! Explore your lure choices and consider the science when making your choices. Ask any crappie fisherman across America and even Canada and they will tell you, there is nothing like feeling that "thump". Happy fishing!
Equipment/Tackle:


Rod: 8ft-10ft Rod for fishing deep and 10ft-12ft. Rod for shallow/semi clear water.

Rod Action: Medium to Medium Heavy not Medium Light or Light.

Line: 8lb-10lb. Hi-Vis Line or Clear Line if water is clear.

Reel: Spinning Reel with a great drag system.

Jig Head: 1/8th oz. or 1/4 oz. Jig Heads

Lure: 2inch Plastic Tube or a Single Tail Plastic lure my favorite colors for stain water are black/chartreuse, lime/chartreuse, blue/chartreuse, orange/chartreuse. For clear water I like to use white/chartreuse, black/white, solid white, silver glitter/white, lime/chartreuse and blue/white.
By: Jarad Roper
Connect With Jarad At His Other Pages
Facebook: Jarad Roper
Twitter: @JaradRoper
YouTube: Roper Outdoors