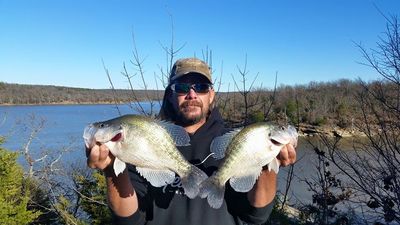 Todd Huckabee – Oklahoma
Winter fishing here is awesome as long as we have no rain. I start by fishing in creeks because the fish have nowhere to go. They live there and cannot move far. Depth is determined by water clarity but most likely it will be from 6-11' along the break lines of the original creek. Most fish this time of the year will relate to food because their metabolism is slowed way down and they do not want to move far. I use the biggest bait I have and that is the beaver bottom bait. Most people think smaller baits in winter but that is false. All shad fry this time of the year is at least 2.5" and most are much larger.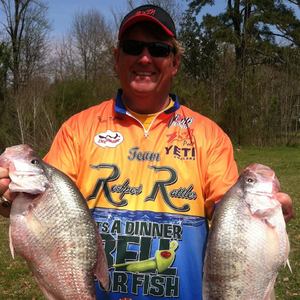 Whitey Outlaw – South Carolina
I will be fishing Santee Cooper here in South Carolina. Water depth will be 10-5'. Slow trolling 1/4 ounce Rockport Rattler Jig Heads with Midsouth tubes tipped with minnows on 16 ft. long poles. I also will be vertical jigging grass beds in the swamp 8-5' of water with a 1/16 ounce Rockport Rattler jig with Midsouth tube.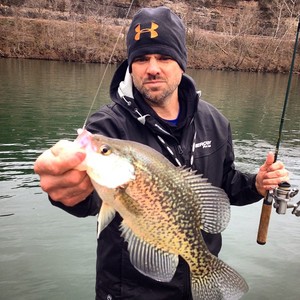 Kevin Roger – Missouri
We are catching fish over brush piles, on the edge of the creek channel in 17'-22' feet of water. The number one key for us in the wintertime is baitfish. Electronics are huge in the winter time, we use them more in the winter than we do any time of the year. We will idol until we find the bait. No bait no fish, find a bait you will find the Crappie.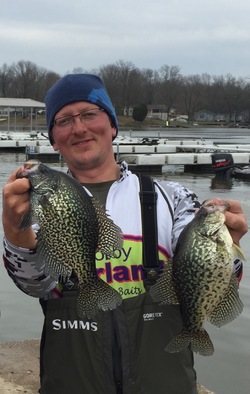 Doug Sikora – Indiana
Whether on ice or open water, I'll be searching for the food source that is prevalent in that particular body of water first. Most bodies of water in central Indiana that hold good numbers of crappie, will also hold good numbers of shad. Using my electronics, I'll troll water until I find consistent bait balls in an area, then look for the structure located in that area. These areas usually consist of slightly stained water that has little to no current, and is a degree or two warmer. If the body of water is clear, the bait balls are usually found in deeper sections, and the reverse can be said when the water is heavily stained to muddy. A misconception commonly shared among anglers is they believe since the water is cold the fish go deeper.
Once the fish are located, we slow down the presentation more in the winter than the other seasons. Last week the fish preferred a Bobby Garland Scented Wiggl'R with absolutely no movement, also known as "dead-sticking".  If the sun is shining bright, we target boat docks, shooting 1/24 oz. Mo Glo jig heads paired with Dockt'R or Baby Shad type baits.
In the northern part of Indiana, in any of the many natural lakes, the bite can be found in channels or weedlines using bug mimicking baits. Our rules of thumb, white crappie prefer minnow profiles, and black crappie spring for the insect colors and profiles, especially in the winter months. As the winter progresses and the weeds lose their oxygen creating qualities, the crappie will migrate to deeper water following the zooplankton feeders.
Regardless the season, you can bet that the crappie are feeding somewhere, and when you find one there is likely many more!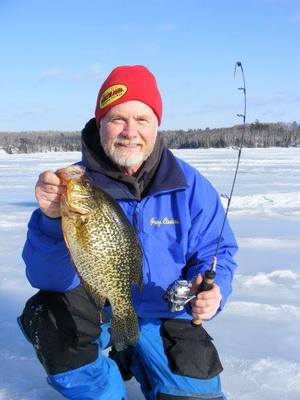 Greg Clusiau – Minnesota
In northern Minnesota I'm using small tungsten jigs tipped with either plastics, wax worms, or maggots. My favorite colors to use are glow red jig heads with white plastic baits. I find crappie in lake basins anywhere from 20-35' or so. Eectronics are a huge part of being successful during this season. I use a Vexilar FLX-28. Knowledge of the lakes are great as well.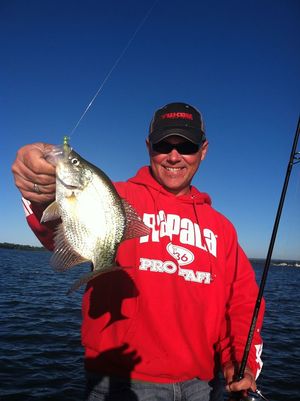 Dave Lefebre (Bassmaster Elite Series Pro) – Pennsylvania
There are several different types of fisheries within 50 miles of my home in Erie, PA, two of which I'll focus on: Natural lakes and manmade reservoirs.  
The reservoirs are typical of most across the country. Sometimes they are starting to freeze by now, but our water temps are still around 40 so I'm still fishing from my boat. They have creek and main river channels, stumps, brush piles, road beds and points. Right now I'm catching them on and around deeper stumps close to drop offs. The fish are schooled up on points and depending on the weather and time of day, they will be from 12-20 ft. In the lower light conditions, or wind, they tend to be shallower and not as tight to the stumps. In the sun or calmer conditions they get tight to cover and need to be enticed a bit more. This is all "in general" of course. 
I'm fishing vertical right now, never making a cast. It's hammer time, I'm often catching 100-200 in a day. It's also a good time to catch bigger than average slabs, and they are fat. 
I never use live bait. I use two presentations. First a drop shot rig on a spinning rod. The complete setup is important and every part works together perfectly. I use 6lb Sufix Nano Braid (Aqua Camo). It's new and I've switched all my spinning reels to it. It's super fine, strong and smooth as silk. I tie a 10-15ft leader with 4 lb Sufix Invisiline fluorocarbon, and tie my dropshot to that. I'm using 2" Yamamoto grubs and tubes, mostly in minnow type colors, white, and chartreuses. The length from my sinker to the hook is important depending on the height of the wood I'm fishing. If the stumps come 2 feet from the bottom, I'll try to make my leader a couple inches longer. Once you get that length perfect for the area I'm working, it's lights out and you don't get snagged…It's a beautiful world. I normally use a 1/4oz VMC tungsten cylinder weight, again, so not snag as much. My hook is a Gamakatsu #4 Split shot/drop shot hook and I simply nose hook the plastics. Sometimes the fish like the bait moving a lot, shaking it, sometimes they like it still, but they key is keeping the weight on the bottom most of the time. That can change throughout the day even. I use a variety of colors, mainly switching when the school shuts down or gets smart. My rod is a 13 Fishing 6'10" medium light Envy Black spinning rod with a tiny Wicked ice reel.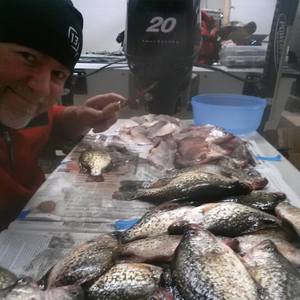 My second presentation is a 13 Fishing 6'7" medium action Envy or Omen Black bait casting rod with a 7.3:1 Concept bait casting reel. I use 8lb Sufix Invisiline fluorocarbon. I tear them up on the Rapala Jigging Shad Rap this time of the year. I've always caught them on the Jigging Raps, but I've been loving the size 02 Jigging Shad Rap since it came out because it has a little wider profile and some incredible colors. Gold, Glow, Silver, Shiner, Clown, Orange Tiger UV, and Pink Tiger UV…they are all hot! I use this technique when they are biting good mostly. Its quicker, so you can just drop it down there and jig it a couple times and get pounded over and over again.
The natural lakes are also typical of most across the country. They have lots of grass, flat bays, and main lake basins. There are fish in the basins better at later ice, but I like the grass flats this time of year. It's more of a needle in a haystack approach, so my work begins just before the water freezes...now. I idle the big weed-filled bays back and forth, looking for anything different on my Lowrance electronics. I mark everything on my Handheld GPS, the same one I take on the ice later. I mark holes in the grass, thicker clumps, schools of bait, or even fish…basically anything different at all. It's so important to drill your holes in the exact right spot, so I'm pretty particular about it in the boat. I drop buoys on high potential spots and use triangulation to get  pin point line ups. My waypoints get me really close, but my line-ups are exact every time. 
Same rods, line, etc. But I use 1/32-1/16oz Tungsten Wax Tail jig heads with either the tube or the grub. I'm usually making short pitches to holes in the grass and fishing as close to the top of the grass and as slowly as possible. When I get on a spot with a school of fish, I sometimes use a bobber. For this I will use Sufix 4lb mono as opposed to the fluorocarbon because it floats and doesn't drag the bobber down. For the bobber I use the tube more often and without the bobber I use the grub more as a rule.
It is so important to throw a buoy out when you catch one, because they is ALWAYS more than one, and most of the time there is a large school close. The buoy is for reference throughout the day as the fish move around, and they do!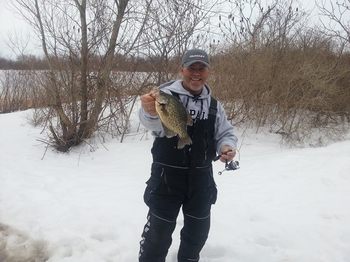 How will you be catching them? Hopefully by drilling holes, nothing better than catching big slabs through the ice on mega light tackle. Otherwise, they are already in their winter areas, so nothing changes as ar as location in the coming months, but my ice rods and reels, lines and bait selection change. I use 1b Sufix Ice Magic 99% of the time, unless the fish are chewing, but many times the smaller line makes a huge difference, especially when fishing in a crowd. I'm addicted to the new 13 Fishing Tickle Stick technology, where a conventional round black, tapers to a flat tip. I used UL Tickle Sticks last season, and I'm excited to use the new Widow Makers when the ice forms this season. Some models of the Widow Maker utilize the flat tip, and there's also a longer version called the Hole Hopper, which is what the name indicates. It's for guys who like to "run and gun" on the ice, fishing a ton of holes looking for active fish, one here and one there. My best ice jig head is a VMC Tungsten Wax Jig. I use a wide variety of plastics, but my favorite is the same 2" Yamamoto tube. I use 13 Fishing Wicked reels.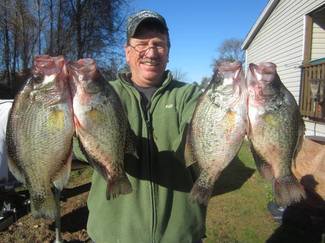 Russ Clarke - Arkansas
In winter I will be either be spider rigging main river channel edges with minnows and Jigs or vertical jigging brush and timber just off the bottom. I fish Lake Conway, Dardanelle and Nimrod mainly, along with several other smaller lakes here in Central Arkansas. Downsizing and Slowing down can be the ticket in the winter when those bad cold fronts blow in.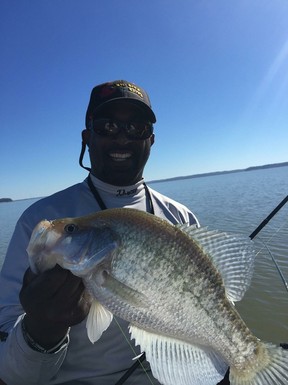 Warren Cotton – Mississippi
During the Fall and Winter months Southern Reservoirs are experiencing Winter Pool with very Low water levels. Finding and Catching Crappie in Murky Cold water can be a Challenge I normally start out using my Electronics scanning shallow flats looking for balls of bait fish. After finding a potential area the most effective Technique is Slow-Trolling Big Bite Ring Triple Tip Grubs Tipped with a Large Minnow at 3 to 4mph. Critical Tips: Never Overlook shallow water areas or feel you need to fish deep because you're fishing deep waters.