home
news
top slab waters
Arkansas Top Slab Waters For Quantity & Quality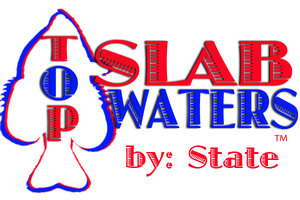 CrappieNation.net has talked with the states Fisheries Biologist and based on the departments research we have come up with this information. As time changes, bodies of water will also.
QUANTITY - Lake Nimrod
The 3,550-acre Lake Nimrod is Arkansas's oldest lake created by the U.S. Army Corps of Engineers. It was formed following the 1942 completion of a dam on the Fourche LaFave River. The Ouachita National Forest borders the lake's south shore, and State Scenic 7 Byway passes by its east end.
Fishing: The lake is best known among anglers for its "slab" crappie fishing. Other major game fish available include largemouth bass, bream, catfish and white bass, but the crappie fishing is unbeatable. Several stores and bait shops along the lake sell camping, fishing and hunting supplies.
---
QUALITY - Lake Conway & Harris Break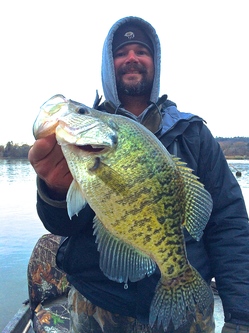 LAKE CONWAY - At 6,700-acres, Lake Conway is the largest man-made game and fish commission lake in the United States. Construction of the lake began in 1948, with its waters coming from the runoff of Stone Dam Creek, Gold Creek, Palarm Creek, Little Cypress Creek and Panther Creek. Its average depth is six feet, with a maximum depth of 18 feet. The lake is approximately eight miles long with 52 miles of shoreline.
With cypress trees scattered through out the lake CrappieNation.net will call Lake Conway, "Crappie Heaven". Several free public launch areas are maintained by the Arkansas Game & Fish Commission; boat rentals are available at several commercial docks on the lake. Adams', Brannon's, Bream's Nest, Gold Creek, Highway, Lawrence, Martin's Northshore, Palarm Creek, Paradise, Pierce Creek and Sevier's are the landings with boat ramps.
The main access to Lake Conway is from Interstate 40 via Exit 135 at Mayflower. This exit offers access by way of Ark. 89 and Clinton Road to docks east of the lake. The northern end of the lake can be reached by gravel roads branching off Ark. 286. Phone the Arkansas Game and Fish Commission for more information: 501-223-6300; toll-free, 1-800-364-4263.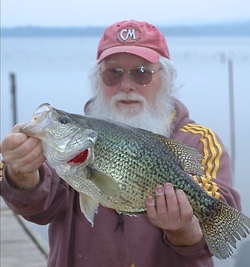 HARRIS BRAKE LAKE - At 1,300 acres, Harris Brake Lake is the third largest lake owned by the Arkansas Game and Fish Commission. Built in 1955 it is one of the largest ever built by a state wildlife agency. Facilities include four concrete and two gravel boat ramps, two lakeside bait shops that provide boat and motor rentals and fishing supplies. Camping and picnic areas are also available. 
Harris Brake is one of Arkansas overlooked gems. In 2013 Tommy Baxter while fishing from the bank caught a 18.5 inches crappie weighing 4 pounds and 2 ounces. Tommy is pictured up top. If we take care of our lakes they well bless us for years to come. Located one mile south of Perryville in Perry County.