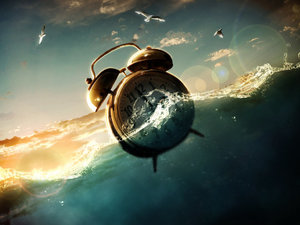 To Become A Better Angler You Need To Learn The Importants Of T.I.M.E. We have talked with four Crappie Professionals and asked them to weigh in on the subject.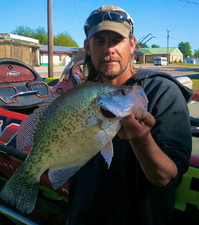 (Transition) There are only a few transitions. Pre-spawn, spawn and post spawn. We all make this to difficult. Bottom line is anytime other than the spawn crappie are looking for one thing and one thing only, something to eat. Find baitfish and you will find crappie.
- Todd Huckabee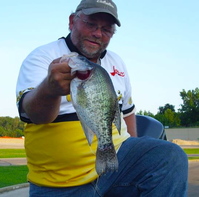 (Information) When I started fishing tournaments I would gain information a lot of different ways. Maps of the body of water you are wanting to fish give you a lot of information. They will give depth, contours and even average depth. You may say, how will that help? Call or go by the local bait shop and ask this simple question how deep are the crappie being caught. Let's say they tell you 8 to 12 feet. You just eliminated 80% of the water. Also ask what color jigs are you low on, this will most likely tell you what the local fishermen are using. Now you have the depth and color of jigs most crappie are being caught on. Water temperature and clarity is also helpful information. Let's say it's a big spring rain and parts of the lake are dirty. Asking questions on water clarity will help you find productive water. Remember be safe on the water and my favorite jig combo is a red and chartreuse jig tiped with a shiner minnow. That will put a lot of crappie in the boat.
- Bert Bennett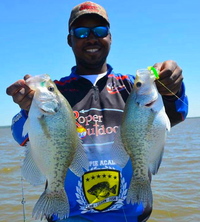 (Methods) One thing I learned from the years dad and I used to do 15 tournaments a year traveling to lakes in different states like Florida, Oklahoma, Tennessee, Alabama, etc., is that you have to be versatile. Coming from New Jersey we didn't know these central and southern lakes like all the other guys did. So we had to force our self to learn several methods of catching crappie. One of the first methods we had to master was Spider Rigging. After getting that down pack we learned how to dock shoot, long line, pull crankbaits, etc. Never get locked into one method of fishing. That can even go for those that say they only fish with artificial bait or live bait. Make sure if there's ever a time you need to switch to another method to bring those slabs in the boat you can. The minute you stop learning, is the minute you begin to become stagnant.
- Jarad Roper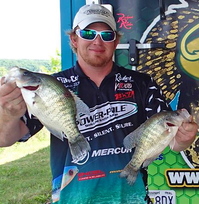 (Electronics) Electronics have evened the game in tournament fishing. But, it they are not limited to tournament fishing. If a fisherman wanted to consistently catch more crappie per day no matter what the season is I would suggest learning your electronics. There are a lot of people that buy the most high end electronics on the market but never take the time learn them. We run Humminbirds, which come out of the factory set up where in most situations there is no need to adjust them. With any of the imagining technology the best thing to do is leave your rods at home and simply ideal around looking at your screen. By doing this you will start to make out what you are looking at. I know it took me a while to compute in my head what I was looking at with the imagining vs. the traditional 2D sonar I was accustomed to. This technology will not only show you structure but will show you whether fish are relating to it or not. Where they are located in the structure. It will also show the difference in a hard bottom or a soft bottom, which can make all the difference in the success of that trip. It will also show you open water fish and if they are actively feeding or not just by paying attention the shapes of the bait they are relating to. I could go on for a while if this is not what you had in mind or need more information let me know.
- Travis Bunting